WESTERN MOVIES [PREVEDENI] – 1944 [5]

Buffalo Bill (1944) BUFALO BIL

[WD] Meet Me in St. Louis (1944) SREŠĆEMO SE U SENT LUISU

[HM] National Velvet (1944) PONOS NACIJE


Nevada (1944) NEVADA

Tall in the Saddle (1944) VISOKO U SEDLU
[Joel McCrea ... William Frederick 'Buffalo Bill' Cody, Maureen O'Hara ... Louisa Frederici Cody, Linda Darnell ... Dawn Starlight, Thomas Mitchell ... Ned Buntline, Edgar Buchanan ... Sgt. Chips McGraw, Anthony Quinn ... Chief Yellow Hand, Moroni Olsen ... Sen. Frederici, Frank Fenton ... Murdo Carvell, Matt Briggs ... Gen. Blazier, George Lessey ... Mr. Schyler Vandervere, Frank Orth ... Sherman - Shooting Gallery Owner]
- The story of William "Buffalo Bill" Cody, legendary westerner, from his days as an army scout to his later activities as owner of a Wild West show. A fictionalized account of the life of William F. "Buffalo Bill" Cody. A hunter and Army Scout in the early part of his life, he rescues a US Senator and his beautiful daughter, Louisa Frederici. Cody is portrayed as someone who admires and respects the Indians and is a good friend of Yellow Hand who will eventually become Chief of the Cheyenne. Everyone else, including the military, politicians and businessmen on the other hand hate the Indians and are perfectly prepared to trample on their lands and destroy their buffalo hunting grounds. He's eventually forced to fight the Cheyenne however. He's also met a writer, Ned Buntline, who writes about Cody's exploits and he becomes a sensation when he travels East. His career is not assured however, particularly when he attacks those in positions of authority over their maltreatment of the Native American population. He eventually establishes his wild west show that becomes an international sensation. [Director: William A. Wellman] [90 min, 1.37 : 1, USA]
• Divlji Zapad, 1887. godine. Kočiju u kojoj se nalaze američki senator Frederiči (M. Olsen) i njegova lepa ćerka Luiza (M. O'Hara) napadnu Indijanci. U posljednji čas život im spasava skaut Vilijam Frederik Kodi (J. McCrea), zvani Bufalo Bil. Senator stiže da bi požurio izgradnju železničke pruge preko indijanskih teritorija, zbog čega bi Čejeni morali da napuste svoju zemlju. Iako Bufalo Bil upozori senatora i ostale moćnike da će Čejeni zbog njihove odluke pokrenuti rat, političari ne žele da odustanu. Uistinu, ubrzo dolazi do rata i Čejeni otmu senatora. Bufallo Bil uspe da ga izbavi, zahvaljujući činjenici da je jednom davno spasio život poglavičinom sinu Žutoj Nozi (A. Quinn). Indijanci i belci privremeno sklapaju mir, ali pohlepa belaca koji od ubijanja bizona naprave glavnu turističku atrakciju ubrzo ponovo dovodi do rata. Zbog rata propada brak Bufalo Bila i Luize (M. O'Hara), koja sa tri dana starim sinčićem odlazi na Istok... Reditelj Vilijam A. Velman (1896.-1975.) jedan je od najistaknutijih autora klasičnog Holivuda i jedan od najvećih majstora klasičnog narativnog stila. Potpisnik brojnih antologijskih filmova, Velman se naročito istakao u žanru vesterna, snimivši čuvene klasike "Omča za vešanje", "Žuto nebo", "Preko prostranog Misurija", "Karavan žena" i "Trag pume". Među njih treba uvrstiti i film "Bufalo Bil", ličnu biografiju stvarne osobe Vilijama Frederika Kodija (1846.-1917.), čestog protagoniste brojnih drugih vesterna. U Velmanovoj interpretaciji, Bufalo Bil je uzbudljiv, zabavan i vrlo slojevit lik oko koga Velman fascinantno sučeljava civilizaciju i divljinu. Poput ostalih najuspelijih Velmanovih filmova i "Bufalo Bil" je za ono doba prilično subverzivan: prateći sudbinu Bufalo Bila nakon dolaska na Istok, Velman sa neskrivenim antipatijama prikazuje medijske manipulacije Bufalovim likom i delom, nakon što se ovaj suprostavio korumpiranim političarima i industrijalcima. Glavnu ulogu odigrao je legendarni Džoel MekKri.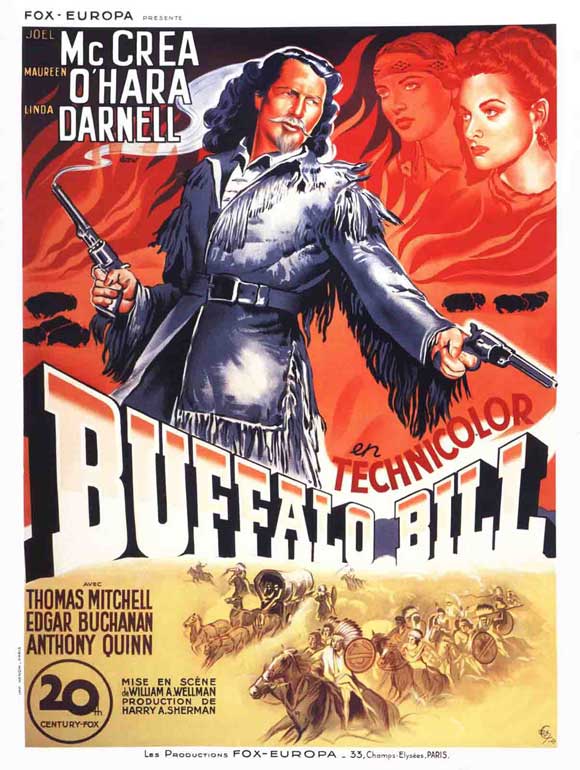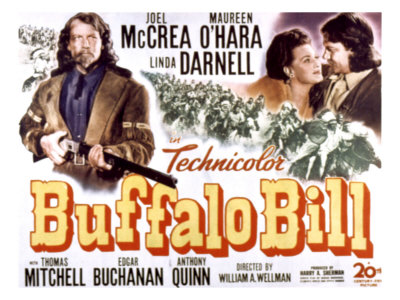 Tall in the Saddle (1944)
[John Wayne ... Rocklin, Ella Raines ... Arleta 'Arly' Harolday, Ward Bond ... 'Judge' Robert Garvey, George 'Gabby' Hayes ... Dave, Audrey Long ... Clara Cardell, Elisabeth Risdon ... Miss Elizabeth Martin, Donald Douglas ... Harolday (as Don Douglas), Paul Fix ... Bob Clews, Russell Wade ... Clint Harolday, Emory Parnell ... Sheriff Jackson, Raymond Hatton ... Zeke, Harry Woods ... George Clews]
- When a stranger arrives in a western town he finds that the rancher who sent for him has been murdered. Further, most of the townsfolk seem to be at each other's throats, and the newcomer has soon run contrariwise to most of them. [Director: Edwin L. Marin] [87 min, Black and White, 1.37 : 1, Mystery l Western l Romance, USA]
• Mladi Roklin (J. Wayne) dolazi na ranč na Divljem zapadu i saznaje da je njegov poslodavac nedavno ubijen. Istražujući ko ga je ubio, sukobljava se sa nekoliko ljudi koji imaju različite veze i sa rančem i sa pokojnim vlasnikom. Za njega se zainteresuju i dve devojke. Zbog svega toga pridošlica se većini ne sviđa pa mu podvaljuju ubistvo...